Future Sci-Fi Tales: Spatial Void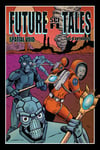 Tales from the future! A special new Kickstarter edition of the Future Sci-Fi Tales anthology series features six tales of sci-fi.
Read about galactic mercenaries, forbidden love, mechs, mighty planet protectors, aliens, and more!
Here we go! This is the 6th book in the sci-fi anthology book line and man is this a big one! I first started Future Sci-Fi Tales back in 2017 which consisted of my own stories. Since then, it's been opened up to other fantastic creators throughout the years.
This book is the largest yet with six creator owned stories putting the page count at 50 plus pages